What's On
COMING EVENTS
Sunday 13th December - Christmas in Cremorne
IMPORTANT INFORMATION FOR THIS YEARS EVENT - COVID SAFE PLAN

We are asking all attendees to register for this event by obtaining their free tickets form Eventbrite. This is to assist us with contact details and ensures we have the right numbers permitted as per Covid safety requirements. Please register all members of the family.
Tickets are available from Eventbrite via this link: https://www.eventbrite.com.au/e/christmas-in-cremorne-tickets-128063063069
Please note this is a community event for Cremorne residents and their families. Special friends of the village are also welcome - please send us an email at cremornecommunitygroup@gmail.com if you have any questions or to request tickets.
PRESENT DROP-OFF DETAILS
The gift drop off point

is at Anne and Glenn Crummy's house at 5 Pipeclay Esplanade.

Presents can be left from

Sunday 29th November

.

The Santa collection box will be near the front door. There will be a note on the door if the location has changed slightly.

Please ensure that all gifts are well marked with names and please bundle all sibling presents together as Santa will call them up at the same time (because it is a very busy time of year for Santa!)

Gifts need to be dropped off NO LATER THAN 5PM FRIDAY 11TH DECEMBER

PLEASE also be mindful of present size and cost (keep to a $20 limit),

as Santa only has so much room in his sack, and he is also all about present equality! We don't want children wondering why Santa has given another child a more expensive toy than them.
OTHER IMPORTANT DETAILS
There will be a "Donation Box" for the Sandford Fire Brigade left out at Anne and Glenn's. Please take the opportunity to donate a few dollars to the fire brigade as they so graciously donate their time (and their fire truck) to bring Santa to Cremorne each year :-) They do an amazing job to keep our community safe.
The donation box will also do the rounds on the day but we are starting early in recognition that people don't always have money with them at Christmas in Cremorne.
Don't forget to bring $5.00 on the day to join the Cremorne Community Group, if you haven't already. This small fee helps the CCG to organise events such as this for the community throughout the year.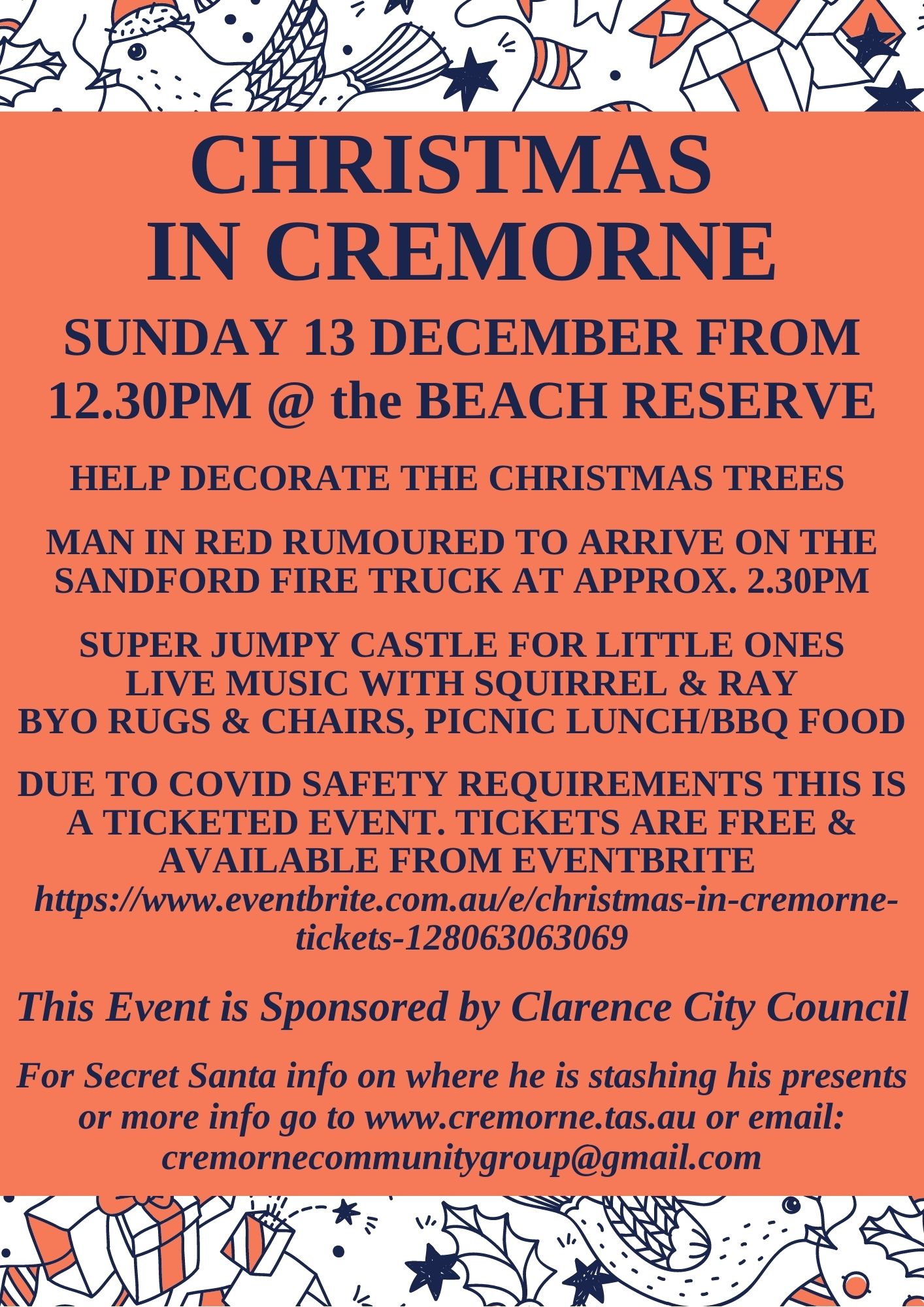 Past Events
28 August 2016 Cremorne Community Group AGM agenda

14 August 2016 Cremorne Community Group community forum details

14 June 2016 Cremorne Community Group meeting 7.00pm at the Cremorne Bowls and Community Club All welcome Agenda Minutes of previous meeting

20 December 2015 :Christmas @ Cremorne details: Santa information: words for Twelve Days of Christmas

16 November 2015 :Cremorne Community Group meeting

7 November 2015 Quiz Night Cremorne Playgroup fundraiser see all the details

18October Cremorne Day Long Table Lunch see all the details

27 Sep 2015 Cremorne Community Group AGM 2015

24 Apr 2015 Friday night dinner April 2015

13 Apr 2015- 17 Apr 2015 Jack attack 2015

27 Mar 2015 Friday night fish and chips

16 Mar 2015 CCG meeting 16 March 2015

13 Mar 2015 Friday night fish and chips

01 Mar 2015 Clean up Australia Day

27 Feb 2015 Fish & chips 27 Feburary

06 Feb 2015 FISh & chips 6 Feburary

09 Jan 2015 Fish & chips 9 January

19 Dec 2014 Summer solstice 2014

28 Nov 2014 Friday night dinner 28 November

21 Nov 2014 Fish & chips 21 November

11 Nov 2014 Cremorne Community Group meeting 11 Nov

07 Nov 2014 Mediterranean themed dinner

31 Oct 2014 Halloween 2014

12 Oct 2014 Cremorne DAy long table lunch

03 Oct 2014 Friday night dinner 3 October

22 Sep 2014 Cremorne Community Group meeting

14 Sep 2014 Bowls Open Day

22 Aug 2014 Friday night dinner August 2014

25 Jul 2014 Friday night dinnerCremorne Bowls & Community Club

07 Jul 2014- 31 Jul 2014 Newsletter Naming Competition

05 Jul 2014 Cremorne Community Group AGM 2014

27 Jun 2014 Friday night dinner June 2014

23 Jun 2014 Cremorne Community Group meeting June 2014

13 Jun 2014- 14 Jun 2014 "Boogie at the Bowlo"

10 Jun 2014 Cremorne Community Group meeting june2014

30 May 2014 Friday dinner Bowls & Community Club

14 Apr 2014 Cremorne Community Group meeting

20 Dec 2013 Christmas at Cremorne 2013

03 Dec 2013 Cremorne Community Group meeting

22 Nov 2013- 24 Nov 2013 Michelle Wilkie Art Exhibition

05 Nov 2013 Melbourne Cup Luncheon

13 Oct 2013 Cremorne Day 2013

10 Oct 2013 Barefoot (Twilight) Bowls

29 Sep 2013 Cremorne Community Group AGM 2013

10 Sep 2013 Cremorne Community Group

18 Aug 2013 Tree planting - 'Waterloo Farm'

09 Apr 2013 Cremorne Community Group meeting All Welcome

12 Mar 2013 Cremorme Community Group meeting

03 Mar 2013 Clean up Australia Day in Cremorne

25 Feb 2013 Cremorne Bowls Club fundraising event

17 Feb 2013 Jazz @ the Beach

18 Jan 2013 Bushfire Appeal QUIZ Night

21 Dec 2012 Christmas at Cremorne

06 Nov 2012 Melbourne Cup Lunch

31 Oct 2012 Halloween Trick or Treat

14 Oct 2012 Cremorne Day 2012

10 Sep 2012 Cremorne Community Group neeting 10-9-2012

04 Sep 2012 Cremorne Community Group AGM

10 Aug 2012 Cremorne Community Group meeting

30 Jul 2012 Cremorne Community Group meeting

21 Jul 2012 60s Night at the Bowls Club

14 May 2012 Cremorne Community Group meeting

06 May 2012 Cremorne Day

21 Apr 2012 Pipe Clay Coastcare working bee

16 Apr 2012- 16 May 2012 Cremornr Community Group meeting

04 Apr 2012 Pipe Clay Coastcare future Planning meeting

31 Mar 2012 Social Bowls Day

26 Mar 2012 Cremorne Communuty Group meeting

12 Mar 2012 CCG meeting

04 Mar 201

06 Feb 2012 Cremorne Community Group meeting

26 Jan 2012 BBQ 26 Jan

31 Dec 2011- 01 Jan 2012 New Year's eve

23 Dec 2011 Christmas BBQ